beauty,
FILLER INJECTION.
.
So if you are not happy with it, what are you going to do? Of course
PLASTIC SURGERY
.
But I'm not going to advise you to choose this method because I personally think that it's risky, and of course expensive. I'm recommending you a better method ;).
Last Friday 13th Nov, I was invited by
Omy
.
sg
to attend the event
"Face to Face with Dr. Moon Hyoung Jin- an aesthetic doctor from Korea"
. What attracted me most is Dr. Moon's profile and experience. He has done so many face transformations for many Korean celebs before. I have been always wanting to make some changes to my face, and have been searching around for a trusted doctor to do. So when I received the invitation, I was more happy than to attend. I asked one of my girl friends to attend with me. It was held at Novena Medical Center! The light buffet was just right waiting for us!
There are some
goodies
bags for us too. Only for
invited
bloggers! :)
I was pretty hungry when I got there, so while waiting for the event to start, I quickly grabbed some cakes, pudding, and sandwiches to eat.
My friend, Joyce, accompanied me that night and she had a goodie bag for herself too :) Notice something in white color stick
on
my left hand? That was actually the name tag for
invited
blogger who turned up that night. Let's me zoom it out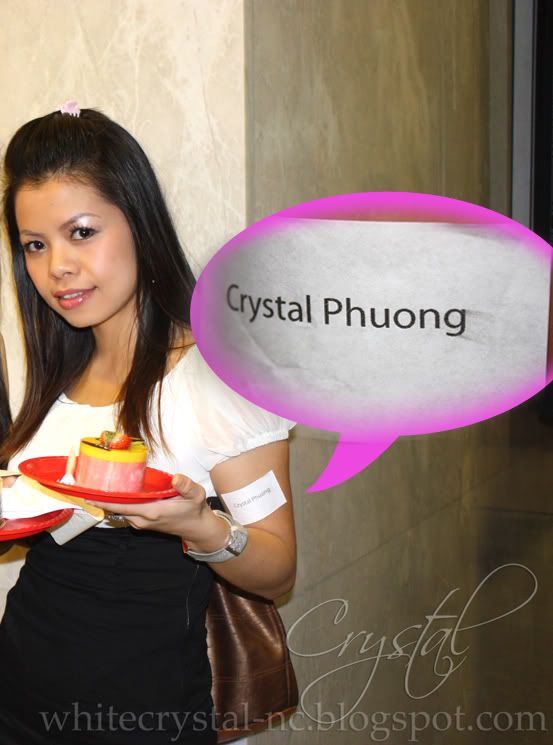 So, what exactly this event was all about? It focused on the product called
RESTYLANE.
Restylane
is Non-Animal Stabilized Hyaluronic Acid (NASHA). It creates volume for the treatment of lips, lines, wrinkles and facial folds.
It
results are immediate. It consists of
complex sugar
chains which have been stabilized for longer lasting effect on the skin. It's Crystal-clear, the
biodegradable gel
is injected
in
target areas using a fine needle, where it fills out the "depleted" areas and restores that youthful plump in your skin. The treatment takes about 10-30 minutes, depending on the amount/area treated. Restylane is safe because it contains no animal proteins allergens or chemicals. Local anesthesia may be administered to avoid discomfort, though many describe that the procedure is only slightly uncomfortable. Patients can resume normal activities immediately after the procedure. You may have slight redness on your skin and some swelling at the injection site.
This, however
, usually disappears in a few hours.
Here you go, the Crystal-clear biodegradable gel Restylane:
And Dr.
Moon
showed us how he has transformed the Korean celebrity faces. Look at this to believe what could be done with his magical hands:

Korean celebrities!


Proof 1
: He changed the nose to become sharper, the lips
to become
slimmer and the jaw to become smaller.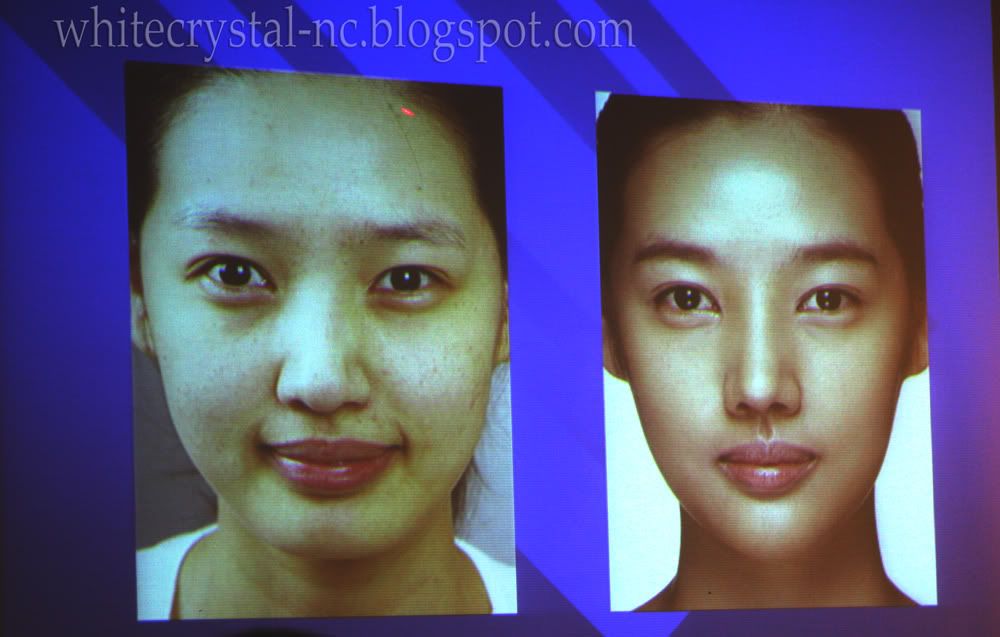 Proof 2
: Perhaps I don't need to explain what are the differences in the before and after photos
Proof 3:
Dr. Moon said, there are many men who came to look for him. It's not because they want to look more handsome. They wanted to look for a job. Because in Korea, if the guy is ugly, the boss will not want to hire him. Besides Dr. Moon, there was another female doctor from Singapore also shared with us about why do we need filler. The presentation was delivered by Dr. Low Chai Ling
A beautiful doctor I must say. But she spoke so fast that I couldn't catch fully her presentation. Just the main highlight: why we need a filler injection? To restore our volume, to restore our balance and symmetry, and to augment facial features. But how do they do that?
Let's follow me to the surgery center for a demonstration:


There was a patient waiting in the treatment room when we entered. She wanted to do filler injection to remove her eye bags, and basically to make her look younger and tireless. So the doctor just did some injections to her face.
The lady was still awake and it seemed not painful at all. After few injections, they massaged her face with a special cream. The whole process took about 15 minutes to complete. I couldn't stay until she was done because we still had something on
at
the other room. So I got back to the main room for an interview session. Oh
ya
, want to know who was the doctor did that demonstration. Here he is, our handsome doctor.
Few of the girls there were looking at him. I'm not so sure whether they snapped the photos of the patient or the doctor,
lolz
.... Ok, here is another interesting part of the event. I got interviewed by Omy
.
sg
:D Wooohoooo! :D The guy who interviewed me is so cute :D He was asking what did I think about the event.
I couldn't remember exactly what I talked, hopefully I didn't talk crap,
lolzzz
...
I looked like I
'm
a primary student answering the teacher's question.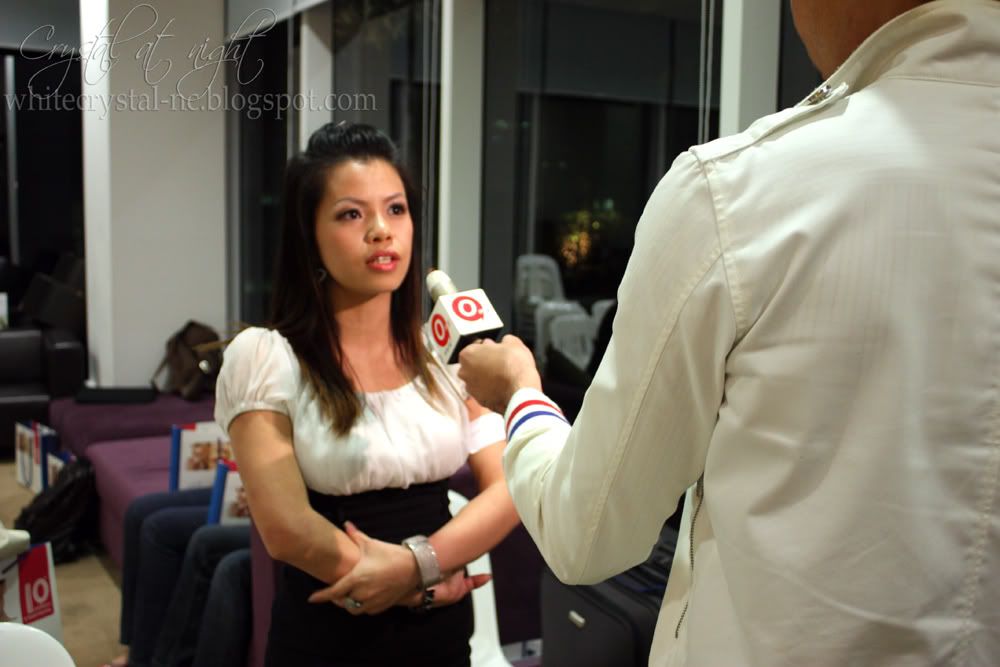 After interviewing, there was another Q&A session before we wrapped it up. I didn't ask anything because it was pretty much clear information we had. Just had some quick cam-whoring before we left.
With Dr. Moon Hyong Jin and one of my model friends whom I met that night too.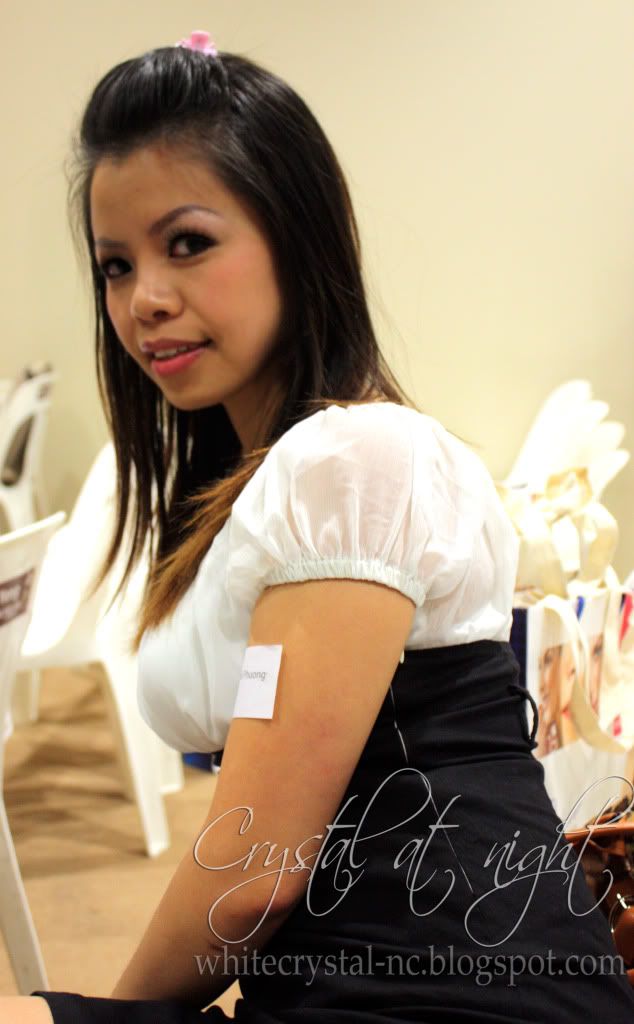 That's the end of the event. We were all happy, especially with some pretty helpful information that we got that night. We were all educated with new things that we never knew. If you guys decide to make a new change

to

your face, do not think of plastic surgery, think of Filler injection because it's safe. I heard from Dr. Moon the cost for it about USD$600 and it would last for 18 months. So if you decide to do, let's go and check it out at the 18th floor, Novena Medical Center

ask

for Dr. Low Chai Ling.
Here are some stuffs we got from the event.
Some magazines, blue make up pouch and blue

foldable

make-up mirror.
I just love the mirror. It looks so cool!
P/s

: When I and Joyce walked back, we discovered a very beautiful opened-air garden in the 18th floor of Novena Medical center. And this forced us to have to take some cool photos here!
See how beautiful it is, especially at night, after the rain.
Ok, it's 12.21am now. Time to sleep and I'm going to see
u
guys in the next post. Have a great week, everyone!